Zion is one of the most visited parks in the United States, and many people come here specifically for the outstanding hiking. But you don't need to be an experienced hiker to enjoy the trails in this park. Hikes range from less than a half mile to multi-day treks, with trails for all ability levels.
If you have time for only a few short hikes or walks, the best options are Lower Emerald Pools, Weeping Rock, and Riverside Walk. However, if you want to experience some of Zion's classic, signature hikes, The Narrows or Angels Landing are probably what you are looking for in a day hike. For something in between, there are all kinds of options. Zion is a spectacular park, with incredible views at every turn, so whether you choose a hike that runs along the valley floor, with sheer cliff walls rising above you, or a trail that runs along one of the high ridges, you won't be disappointed.
1. The Narrows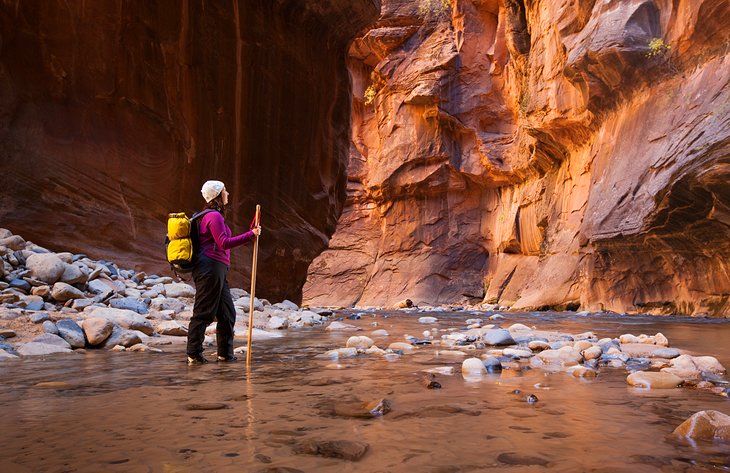 Zion's signature feature, the Narrows is the slot canyon of all slot canyons, and hikers who don't mind getting a little wet can hike through this spectacular rock cut, following the Virgin River. This is the most popular hiking trail in Zion National Park, but it is done in the summer, after the river recedes from the spring runoff and is safe enough for passage.
Although there is more than one way to tackle this hike, most people begin the trail where the Riverside Walk ends. In places where the canyon walls close in around the river to the point there is no shore, you need to wade through the river as you move upstream, navigating through the rocks on the river bed as you go. You can make this hike as short or as long as you like by turning around at any point, but you can't go beyond Big Springs. Most hikers do a round-trip hike of six to eight miles. Alternatively, if you get a permit, you can do this hike from the top down for a strenuous 16-mile trip.